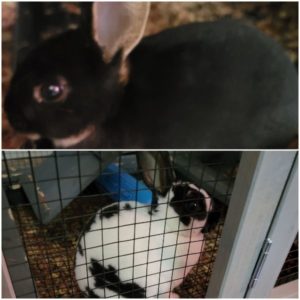 Brownie & Oreo the Mini Rex Rabbits
Age: 9 weeks old
Fixed (Spayed/Neutered)? No
City in which animal is located: Brighton
Rehoming fee? No
Please note: This is a courtesy listing on HSHV's site. This animal is available through a private individual, NOT HSHV. For questions, please contact the individual below, not HSHV. Thank you!
My schedule has gotten hectic, and I just don't have the time to give them the love an attention they need. They live in a bunny hutch with plenty of room to run, and really easy cleaning trays you just pull out. They are 2 loving rex rabbits they are so sweet the brown one loves to be held, and the white & black one is a little skittish just because he's not used to being held. If given the time and attention they would both be great pets. Very laid back and love attention. They are only 9 weeks old an I would give everything with them the hutch, food, bedding, straw, etc. I would prefer for them to stay together.
If you are interested in adopting Brownie & Oreo, please contact Samantha at 810-295-5163 or Summersgirl17@gmail.com. This animal is listed as a courtesy on our site, but is available through this individual. For questions, please contact the individual listed, not HSHV. Thank you!