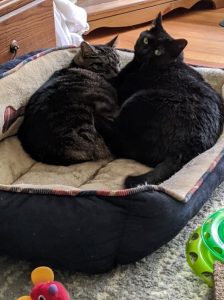 Olivia and Mia the Cats
Age: Olivia is 7 and Mia is 5
Fixed (Spayed/Neutered)? Not known
Declawed? No
Indoor? Yes
Microchipped? No
City in which animal is located: Garden City
Rehoming fee? No
They are both indoor cats. Olivia likes to hide but she also likes to be loved on. Mia is a playful cat, especially when she gets to know you. We don't mind if they get separated, but it would be nice if they stayed together. Someone would love to have them because they are loving cats and can bring love to your home. They love to play with toys. We also have all the stuff you will need for them: a cat tree, food, litter boxes, and food and water bowls.
If you are interested in adopting Olivia and Mia, please contact Ashley at 734-444-7311 or hardestyashley@yahoo.com.