Miz the Cat
Age: 2
Fixed (Spayed/Neutered)? Yes
Declawed? No
Weight: 8 lbs
Indoor? Yes
Microchipped? Yes
City in which animal is located: Ypsilanti
Rehoming fee? No
Please note: This is a courtesy listing on HSHV's site. This animal is available through a private individual, NOT HSHV. For questions, please contact the individual below, not HSHV. Thank you!
Miz is a 2-year-old black cat who was born on Valentine's Day. She loves to run, jump, and overlook her surroundings from high places like the top of the refrigerator. She is a bit slow to warm up but once you earn her love and trust, she gives the best snuggles and can't get enough pets or belly rubs. She loves toys, especially the laser pointer and any stuffed mice. Miz is recently spayed, microchipped, and up-to-date on vaccines. She absolutely prefers to be the only animal in a household, and does not get along with other cats specifically. Miz currently is in a two bedroom apartment that stays mostly quiet, but prior to that was an outdoor cat. Miz is a spunky, sweet, funny, independent kitty who marches to the beat of her own drum. Anyone who earns her love and trust is very fortunate because her presence and personality will touch your heart and make you smile. She deserves all the love in the world!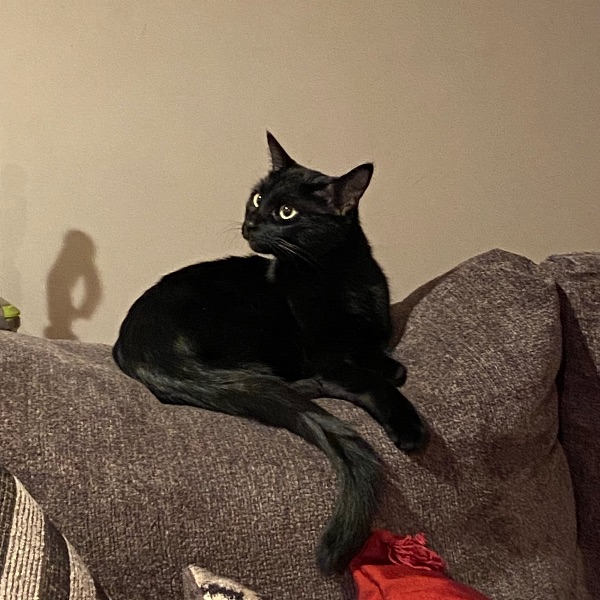 https://www.hshv.org/wp-content/uploads/formidable/105/1AB03BED-D581-4E07-ADC8-BBBAF081D8A5.jpeg
If you are interested in adopting Miz, please contact Star at 248-836-8687 or starryjennings@gmail.com. This animal is listed as a courtesy on our site, but is available through this individual. For questions, please contact the individual listed, not HSHV. Thank you!