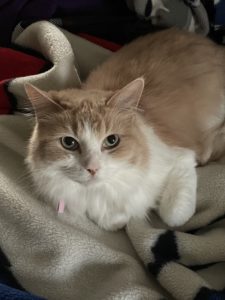 Bella the Cat
Age: 7 years 10 months
Fixed (Spayed/Neutered)? Yes
Declawed? Yes
Weight: 7.5 lbs
Indoor? Yes
Microchipped? No
City in which animal is located: Ypsilanti
Rehoming fee? No
Please note: This is a courtesy listing on HSHV's site. This animal is available through a private individual, NOT HSHV. For questions, please contact the individual below, not HSHV. Thank you!
She is so loving and gentle. She has never been mean to anyone. She is a dominant cat and will take her a little longer to adjust to a new setting. If she has the option to SAFELY go outside, that will make her world.
She's an easygoing cat. Does what cats do. She is a very unique cat with her very own personality. I have raised her from an itty bitty baby so this is HARD for me to do, but she's not happy and I want what's best for her.
If she wants food, she will let you know. She has a special sitting position that tells you she wants to eat. I know all of her tricks, so she can't get away with anything lol. She's not much of a cuddler but when she's in the mood to cuddle, she will not leave. She will sit there, purr, and let you give her as many pets as you want to give her.
I really don't know how she will be with a new parent. I've been in two serious relationships since she was born and she had no issues with both, especially my fiancé. She loves him like she loves me. She adopted us.
This will be one of the hardest things I will ever in my life do but I cannot provide what she wants and so badly desires. :'( I want nothing but happiness and safety for her. She does best with rural areas with lots of woodsy areas. She knows how to get home, I never had a problem with her getting lost. She's up to date with her shots and front declawed (I'm against it but my mother was not).
No offense but I need to briefly interview prior to adoption. This is a hard process for me to do so I hope you can respect this.
If you are interested in adopting Bella, please contact Jeff at 517-993-3218 or jeffrey.nims93@gmail.com. This animal is listed as a courtesy on our site, but is available through this individual. For questions, please contact the individual listed, not HSHV. Thank you!