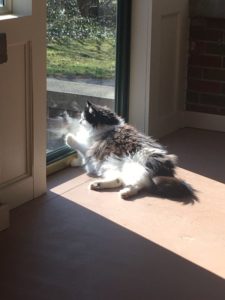 Maximus the Cat
Age: 7
Fixed (Spayed/Neutered)? Yes
Declawed? No
Weight: 20 lbs
Indoor? Yes
Microchipped? No
City in which animal is located: Belleville
Rehoming fee? No
Please note: This is a courtesy listing on HSHV's site. This animal is available through a private individual, NOT HSHV. For questions, please contact the individual below, not HSHV. Thank you!
Max is 7 years old and he is more like a dog than a cat. He loves to be outside. We got him as a kitten when we were first married but now we have a child and one on the way. He needs more attention then what we can give him right now! He is not the greatest with kids, though he will tolerate them. He probably would prefer to be the only animal, to get all the attention! We travel a lot and he needs someone who is home more often. He is not declawed and needs a lot of brushing for his long hair, it gets matted every easily. He is definitely a lap cat but he is huge 20 pounds!!! He is very affectionate. He will love to sleep with you. For someone seeking a loyal companion he would be a good match!
If you are interested in adopting Maximus, please contact Alex at 419-481-3565, 419-705-5845, or acmariano92@yahoo.com. This animal is listed as a courtesy on our site, but is available through this individual. For questions, please contact the individual listed, not HSHV. Thank you!