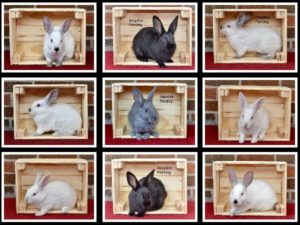 Baby Bunnies! the Rabbits
Age: Born 12/15/20, currently 8 weeks old
Fixed (Spayed/Neutered)? No
Weight: 3 lbs
Indoor? Yes
Microchipped? No
City in which animal is located: Ann Arbor
Rehoming fee? Yes
We were so excited to welcome our very first single pet rabbit into our home and family on November 20th! To our very great surprise, on December 15th she delivered ten adorable baby bunnies. Our whole family has had so much fun watching them grow and today, February 9th, they are 8 weeks old, ready to find their homes. The bunnies are looking for homes where they will be loved as pets and part of the family.
Mama bunny is about 11.5lb, is thought to be a Flemish Giant/New Zealand mix, and has a lovely temperament. The babies are everything you might expect: active, playful, curious, sweet, soft, and growing. The babies have been socialized with our family from day one. Everyone has been assessed by our rabbit savvy veterinarian and she agrees that everyone looks happy and healthy, and we are following her recommendation to treat everyone for mild ear mites. Our veterinarian has confirmed that we have 8 girls and one boy (one of the white buns). Our veterinarian recommends spay/neuter at 4-6 months of age.
We are a family who is committed to finding these rabbits good homes, and therefore we are asking for a small rehoming fee. Please reach out at any time if you are interested in giving one or even a pair of these adorable bunnies their forever home!
If you are new to rabbits, as we were, or need a refresher, we have found these resources helpful.
From our veterinarian
https://lafeber.com/vet/wp-content/uploads/Basic-Rabbit-Care-2017.pdf
https://veterinarypartner.vin.com/default.aspx?pid=19239&id=4952894
Websites
House Rabbit Society https://rabbit.org/
Bunny Lady https://bunnylady.com/
Thank you for your time!
If you are interested in adopting any of these baby bunnies, please contact Nicole at 847-644-6782 or nicole.klekowski@gmail.com.