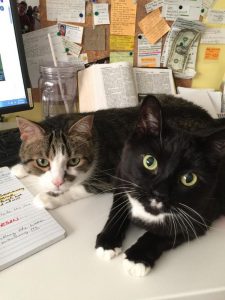 Taz and Bandit the Cats
Age: 13 years and 9.5 years
Fixed (Spayed/Neutered)? Yes
Declawed? Yes
Weight: 14 lbs
Indoor? Yes
Microchipped? No
City in which animal is located: Northville
Rehoming fee? No
Taz is a 13-year-old Tuxedo, a wonderful male with a terrific disposition and a very chatty personality. I must tell you that this boy does spit up a minimum of three times a month. Despite multiple vet visits – with a perfect report – and a wide variety of food attempts, it has continued to this day. That being said, our vet gives Taz a healthy diagnosis with this (somewhat icky) quirk.
Our second cat is a male named Bandit and was a kitten rescue from under a deck. He is 9.5 years old and has an interesting, tabby coat. He is most affectionate once he knows you, but will hide when life gets too loud. We consider him skittish but once he warms up, he laps up the lap.
Both cats are front declawed and fixed; they have never lived outside of our home (with this exception in the garage) . Shots are current as of 2017. Neither cat is chipped.
We are simply sad at their current housing arrangement; these two fellows had the run of a tri-level home and are now relegated to an ample, yet small environment. Both would thrive in a place with no children – or ones that are older- and cuddly humans.
If you are interested in adopting Taz and Bandit, please contact Karen at 248-459-2292 or nanabulbuk3@aol.com.