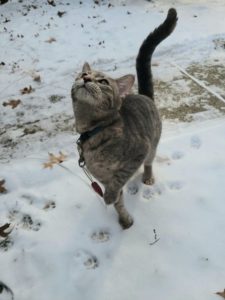 Opal the Cat
Age: 2 Years
Fixed (Spayed/Neutered)? Yes
Declawed? No
Indoor? Yes
Microchipped? No
City in which animal is located: Ypsilanti
Rehoming fee? No
Please note: This is a courtesy listing on HSHV's site. This animal is available through a private individual, NOT HSHV. For questions, please contact the individual below, not HSHV. Thank you!
Opal is an extremely loving and easy going ragdoll mix who is primarily an indoor Cat who needs outdoor access.  She will be 2 years young in February and has been the light of my adventure for many lives over but it's time for Her to find a more open home environment where She can thrive with indoor/outdoor freedom which I can no longer provide for Her.
If She is unable to freely get outside, She will tear and pull apart window screens to fulfill Her instinctual desire to be in the wild… perhaps because She was born outside.
She was raised in a house with another Cat and gets along with dogs and is extremely friendly and non aggressive.  She is a good eater and prefers cheaper foods over expensive fancy and raw meals.
If you are interested in adopting Opal, please contact Dominique at 808-214-8778 or haleolakino8@gmail.com. This animal is listed as a courtesy on our site, but is available through this individual. For questions, please contact the individual listed, not HSHV. Thank you!