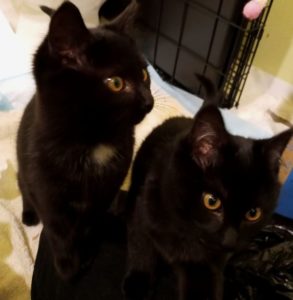 Alex the Cat
Age: 7-8 Weeks
Fixed (Spayed/Neutered)? No
Declawed? No
Weight: 2 lbs
Indoor? Yes
Microchipped? No
City in which animal is located: Dexter
Rehoming fee? No
Alex is very timid, but comes and plays when you are not looking. Hissing and growling at this time but it may take a week or so as he settles in because I have only had him 1 week. He will need company either a sibling, another kitten or someone to play with when you are not around. It will change his personality from shy to happy camper. He has not been around dogs and of course cannot unless your dog has no aggressive or catch-the-kitty ideas on their mind. Children are ok when supervised if very young but again this guy needs warming up from all the rehoming and missing mom. Why would you not want to adopt Alex (not sure if boy or girl going to vets Friday)? Responsible owners only. No Christmas presents for others- you must be the owner strict adoption form required, and spay or neuter when age appropriate.
If you are interested in adopting Alex, please contact Deborah at 734-717-9447 or Mitchigin@hotmail.com.