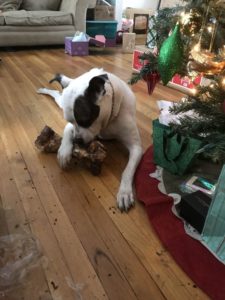 McKinley the Dog
Age: 10
Fixed (Spayed/Neutered)? Yes
Weight: 70 lbs
Indoor? Yes
Microchipped? Yes
City in which animal is located: Southfield
Rehoming fee? Yes
Please note: This is a courtesy listing on HSHV's site. This animal is available through a private individual, NOT HSHV. For questions, please contact the individual below, not HSHV. Thank you!
McKinley has got to be the friendliest and the smartest dog that I have ever known. I really believe that he understands English! Also, he has never met a person that he doesn't like. Though he is a bigger dog, he is actually cuddly like a lap dog. He is quiet around the house and likes to lounge on the couch and sit at your feet. He does have a playful side as well. He loves hide and seek games, giving handshakes, and playing with toys. He will literally make up his own chase the bottle game and run around the house after the bottle for an extended period of time! He is great with people because he is really lovable. He loves giving kisses to everyone. Although he is quiet by nature, he is also a great guard dog. Though he doesn't bark normally, he is quick to bark if someone appears on the porch or pulls into the driveway. We always know when we have a visitor 🙂 Because of his size and strength, I would recommend that he be in a home with older kids, maybe aged 10 and up. He became a part of our family when my son was 10, and they have always gotten along great. My son is 20 now, and they are best friends. McKinley has had very little experience around other dogs, so at this juncture, since he's an older dog, it would probably be best for him to be the only dog. McKinley is just a great dog. He's friendly, lovable, playful, and a good watch dog. Anyone would be lucky to have him.
If you are interested in adopting McKinley, please contact Faith at 248-302-6189 or victoriouslady@protonmail.com. This animal is listed as a courtesy on our site, but is available through this individual. For questions, please contact the individual listed, not HSHV. Thank you!