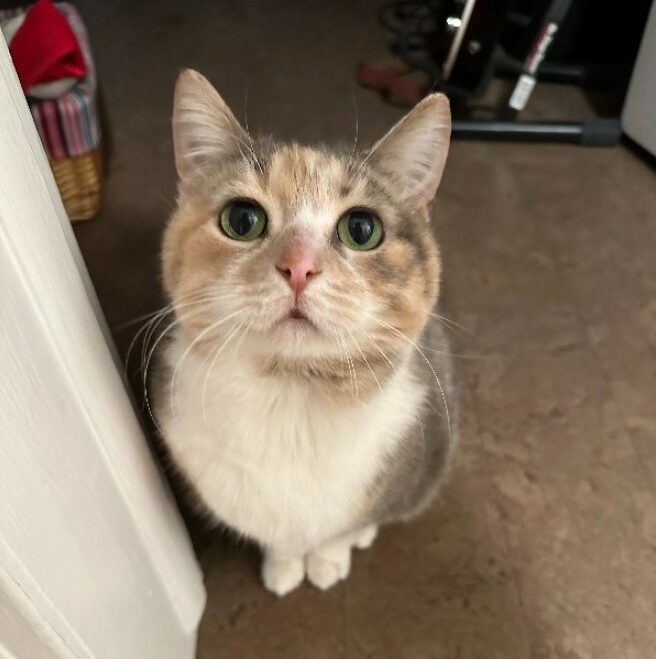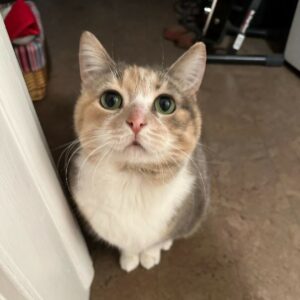 Mishmish (Apricot) the Cat
Age: 8 years
Fixed (Spayed/Neutered)? Yes
Declawed? No
Weight: 12.1 lbs
Indoor? Yes
Microchipped? Yes
City in which animal is located: Plymouth
Rehoming fee? Yes
Please note: This is a courtesy listing on HSHV's site. This animal is available through a private individual, NOT HSHV. For questions, please contact the individual below, not HSHV. Thank you!
Mishmish is an adorable sweetheart who had a rough life before we adopted her back in February 2023, and is still learning that she's no longer a street cat and can now rest in a safe home. She's very anxious and needs a home that will be patient and let her establish trust with her new family on her own terms. She needs to be an only cat—however—and that is why we're having to rehome her. If she got along with our other cat, I absolutely would never consider re-homing her in a million years. She'd likely thrive in a quiet home without young kids. If you want a sweet cat who deserves a chance at a happy home where she no longer has to worry or feel scared, while taking care of her health needs, Mishmish is your girl.
Mishmish is an 8-year old girl who has the loudest purrs, and makes the sweetest chirping sounds when she's happy. She's not yet a lap cat, but she'll keep approaching you to ~almost~ sit on you but then get nervous and just sit beside your legs while purring so loudly. Happy to just be in your company. She likes to be near her 'parents', and will never miss out the opportunity to lay out like a seal on our family room floor directly where the sunlight is flowing in. She also has a tendency to burrow under blankets, so definitely keep an eye out before jumping on top of any soft blankets in your home.
She enjoys one 5.5oz of the Friskies shreds or Friskies Filets and will let you know she's hungry by quietly following you around when it's mealtime.
Medical needs:
Mishmish has arthritis—likely from an injury before we adopted her. As a result, she needs to get a monthly Solensia shot that costs $89 at the Humane Society. This absolutely must continue for any home that adopts her. Mishmish's quality of life has drastically improved. Since she got her first shot near the time we adopted her and monthly since, Mishmish is now a running, playful and jumping baby. Before that, she limped and struggled to play. We want her to continue to thrive and prosper. We also sprinkle a daily joint supplement, Cosequin, in her wet food dinner to help with her general joint health ($17 for a 80/day supply.)
Mishmish is also currently being given 5mg of Fluoxetine a day for her anxiety ($20 for a 100/day supply). For many cats, it is hard to give them fluoxetine because it has a notorious bitter taste. But, we put it in a chicken flavored pill pocket and Mishmish eats it right up—absolutely no hesitation. We started her on Prozac near the end of April and it won't be until the end of June or July until we'll be able to tell for sure if it's working or not.
I know this may seem like a lot but Mishmish is worth it. She's also the absolute easiest to get into her pet carrier to go to the vet. Give her some gabapentin an hour before, put some food and she'll walk right in while purring.
If you are interested in adopting Mishmish (Apricot), please contact Nadia at 734-905-0923 or nkarizat@umich.edu. This animal is listed as a courtesy on our site, but is available through this individual. For questions, please contact the individual listed, not HSHV. Thank you!