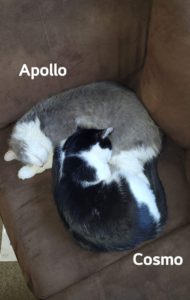 Apollo & Cosmo the Cat
Age: 2
Fixed (Spayed/Neutered)? Yes
Declawed? No
Weight: 25 lbs
Indoor? Yes
Microchipped? Yes
City in which animal is located: Newport
Rehoming fee? Yes
Please note: This is a courtesy listing on HSHV's site. This animal is available through a private individual, NOT HSHV. For questions, please contact the individual below, not HSHV. Thank you!
This is Apollo and Cosmo, unfortunately we have to find new homes for them due to our financial situation at the moment. I refuse to separate them so whoever takes them will have to take them both.
Apollo is born on 03-12-2019 making him 2 years old and Cosmo is born on 04-14-2020 making him 1 year old.
Please do not change their names, as they already know them and look and come to them when called.
They will come with their food, liter box, and a couple toys. I do prefer a home for them that does not have blinds, I would hate for them to ruin them.
Cosmo does not get along with dogs.
Their breed is a Tabby Cat, both are considered to be lazy cats, and also from the same mom and dad just different litters. They are also great with both babies and children. Please be aware that both Apollo and Cosmo do shed quite a lot.
They're all up to date on their shots (just need their boosters), have a microchip, and are neutered. You will receive all of their vet paperwork and their microchip information that we have for them.
A rehoming fee does apply to ensure a good home.
Please call or text me if you're interested so we can have you come meet them first, and then we can discuss transferring them over to you if it's a good fit.
If you are interested in adopting Apollo & Cosmo, please contact Cameron at 734-693-6652, 734-693-6624, or cameronlorraine0912@gmail.con. This animal is listed as a courtesy on our site, but is available through this individual. For questions, please contact the individual listed, not HSHV. Thank you!