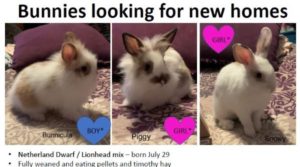 Bunnicula, Piggy, and Snowy the Rabbits
Age: 9 weeks, born 7/29/21
Fixed (Spayed/Neutered)? No
City in which animal is located: Plymouth
Rehoming fee? Yes
Please note: This is a courtesy listing on HSHV's site. This animal is available through a private individual, NOT HSHV. For questions, please contact the individual below, not HSHV. Thank you!
Three Lionhead/Netherland dwarf mix rabbits born 7/29/21 looking for new homes. Gender is difficult to determine but my best guess is that Bunnicula is a buck (male) and Piggy and Snowy are does (females). They are fully weaned and eating pellets and timothy hay. Bunnicula is the most social but all three are friendly and playful. They have been around cats with no issue but are not fond of my dog. I have two accidental litters to rehome (thought we had two females). The July litter of 3, and an August litter of 4 (ready 3rd week of October). There is a small rehoming fee which will be donated to our local rabbit shelter. Please email Jessica at scarlettfan2@gmail.com.
If you are interested in adopting Bunnicula, Piggy, and/or Snowy, please contact Jessica at 313-655-1318 or scarlettfan2@gmail.com. This animal is listed as a courtesy on our site, but is available through this individual. For questions, please contact the individual listed, not HSHV. Thank you!