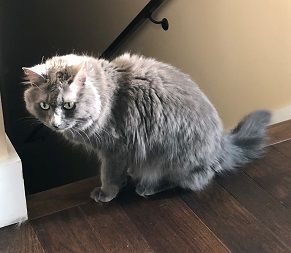 Lola the Cat
Age: 8
Fixed (Spayed/Neutered)? Yes
Declawed? No
Weight: 10 lbs
Indoor? Yes
Microchipped? Yes
City in which animal is located: Ann Arbor
Rehoming fee? No
Lola is afraid of the dogs, and spends her days and nights in the basement. She is very social and loves to have a conversation! I try to spend time petting and talking to her when I go down to feed her and clean her litter box. Lola needs to be in a home where she will receive attention and someone to listen to her! She is very good with people and tolerates other cats. She is afraid of dogs that chase her. She doesn't mind dogs, however.
If you are interested in adopting Lola, please contact Todd at 734-881-7257 or vaderschapen@gmail.com.