Billy the Dog
Age: Billy will be two in July
Fixed (Spayed/Neutered)? Yes
Weight: 65 lbs
Indoor? Yes
Microchipped? Yes
City in which animal is located: Ypsilanti
Rehoming fee? No
Please note: This is a courtesy listing on HSHV's site. This animal is available through a private individual, NOT HSHV. For questions, please contact the individual below, not HSHV. Thank you!
Billy is a young Australian Shepherd and true to his breed, he is loyal, protective, anxious and active. He is a dominant dog, loving to chase anything that moves. He currently lives with another dog who submits to him but they play a lot together. Billy also lives with cats but he gets hyper-focused on them and will playfully chase them at times. He is a food possessive dog with other animals but people can take food or toys without issue. When fed, Billy is told to "sit", "wait" and then released to eat by being told "okay". He is also told to "wait" at gates, doors and when getting out of the car to prevent him from darting out from where he is. He knows "sit", "lie down", "shake", "come here" and while on the sofa or underfoot in the kitchen, "back up" and "move over".
Billy loves his toys, carrying them around or tearing them up. He requires lots of activity, like joining his people outside and for walks. He walks best with an over-the-nose leader. Positive reinforcement and clicker training are effective with Billy. He can be rewarded with treats and/or affection.
He is anxious when around small children – kids should be of middle-school age to interact with him. He is also nervous about small rooms with slippery floors and will not go down basement steps. Billy does not escape fenced yards nor tries to get out of enclosures.
Billy loves playing with water from the garden hose and cuddles on the couch. He is nervous around new people but warms up quickly. He is working on sitting down to greet people but still occasionally forgets and jumps up. He is then told "down" and "sit", then petted when he sits.
He is growing into a fantastic dog best suited for an active household with dog-experienced owners. Billy has a lot of love and personality.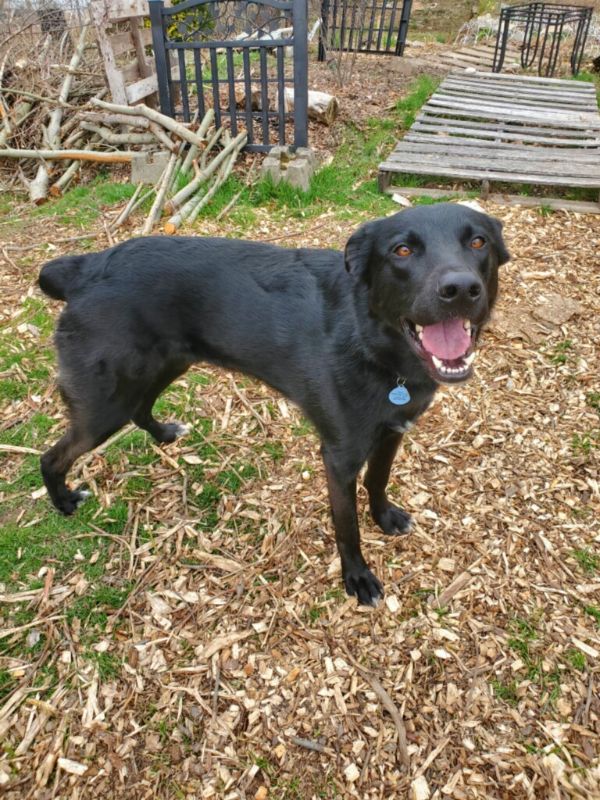 https://www.hshv.org/wp-content/uploads/formidable/105/imagejpeg_026-1.jpg
If you are interested in adopting Billy, please contact Lacy at 517-937-3320 or baddman112063@gmail.com. This animal is listed as a courtesy on our site, but is available through this individual. For questions, please contact the individual listed, not HSHV. Thank you!