Abraxis And Ghita the Cats
Age: 9 and 10
Fixed (Spayed/Neutered)? Yes
Declawed? No
Indoor? Yes
Microchipped? Yes
City in which animal is located: Van Buren Township
Rehoming fee? No
Please note: This is a courtesy listing on HSHV's site. This animal is available through a private individual, NOT HSHV. For questions, please contact the individual below, not HSHV. Thank you!
Abraxis is a straight up cuddle bug! Amazingly friendly cat, he will run right up to you purring like a motorboat and looking for love. He's talkative too! He does very well with other kitties, unknown with dogs. His long coat is stunning, but does require some maintenance, Ghita is the same. As for Ghita, she's a wonderful companion, but she's very skittish. It takes little Ghita a while to warm up to new people, but once she does she will happily sit with you for some attention. We're hoping if at all possible to rehome Abraxis along with Ghita so we can keep the pair of them together. Unfortunately following my father's accident there is no one that can take these wonderful kitties in, and we're trying to keep them out of the shelter.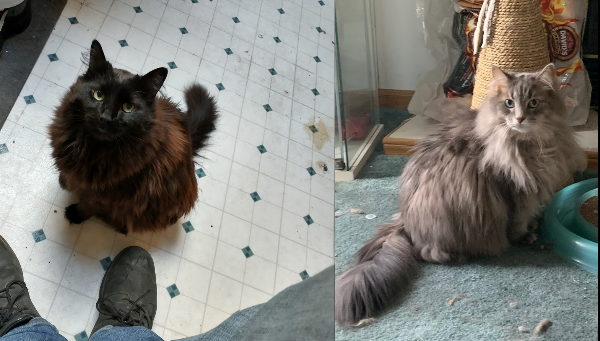 https://www.hshv.org/wp-content/uploads/formidable/105/Kitties-1.png
If you are interested in adopting Abraxis And Ghita, please contact Alexander at 734-545-0226 or guymiller42@gmail.com. This animal is listed as a courtesy on our site, but is available through this individual. For questions, please contact the individual listed, not HSHV. Thank you!