Bud and Sweets the Cats
Age: 14 weeks
Fixed (Spayed/Neutered)? No
Declawed? No
Indoor? Yes
Microchipped? No
City in which animal is located: Ypsilanti
Rehoming fee? Yes
Please note: This is a courtesy listing on HSHV's site. This animal is available through a private individual, NOT HSHV. For questions, please contact the individual below, not HSHV. Thank you!
Hello! This bonded pair are siblings, so rehoming them as a pair is a must ! He is the lighter colored Bengal and his name is Bud currently. And she is the darker tabby/bengal who's name currently is Sweets. Both are very outgoing and vocal! I highly suggest looking into Bengals before you seriously consider adopting these two. They need places to climb and space to run! Very smart and loving, especially when they are sleepy haha but they need a lot of attention. I thought I had a new home set for them but they didn't follow through. NOT vaccinated or dewormed yet.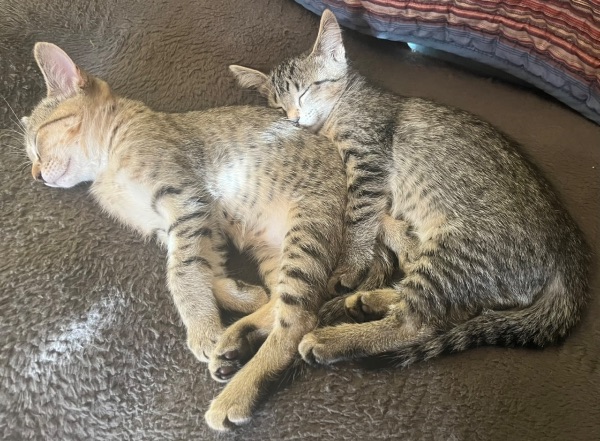 https://www.hshv.org/wp-content/uploads/formidable/105/AB977247-EB85-4894-9B8D-6E7DEDE73E82.jpeg
If you are interested in adopting Bud and Sweets, please contact Michelle at 734-545-2140 or goglocleaning@gmail.com. This animal is listed as a courtesy on our site, but is available through this individual. For questions, please contact the individual listed, not HSHV. Thank you!