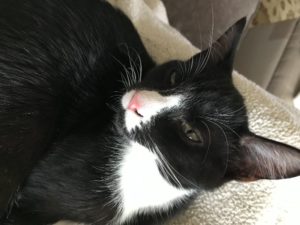 Mushka the Cat
Age: 6 months
Fixed (Spayed/Neutered)? Yes
Declawed? No
Weight: 7 lbs
Indoor? Yes
Microchipped? Yes
City in which animal is located: Gregory
Rehoming fee? Yes
Mushka is a very special kitten. He is the most affectionate cat I have ever had, but is also a bit on the wild side. He will need someone who knows cats. He is extremely curious, playful, smart and loving. He also needs firm boundaries to be taught not to bite. He has a lot of energy and loves to play hard… then will cuddle up and sleep on you like the most docile cat in the world. He is truly special and absolutely gorgeous. He will be a huge cat when he is full grown. I am moving out of state and the situation I had lined up for him has fallen through. He needs a home ASAP. Could you be his special person?!
If you are interested in adopting Mushka, please contact Raizel at 720-320-4114 or whiterose_@msn.com.