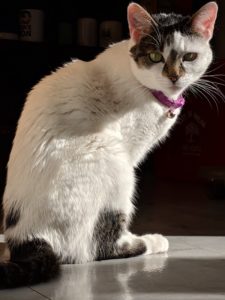 Patches the Cat
Age: unknown
Fixed (Spayed/Neutered)? Yes
Declawed? No
Indoor? Yes
Microchipped? Yes
City in which animal is located: Milan
Rehoming fee? No
She loves ham (she meows like crazy when she hears a lunch meat package opened), and she's great with kids. She doesn't get along with the other cat- not sure if the fighting is just because my first cat was raised with only dogs or if Patches would do better as a single pet. She's been a great cat. Loves to play with ribbon toys. Doesn't like wet food. Litter trained. Patient with grooming. Does jump on counters on occasion, though stopped doing that when I bought her a large cat tree.
If you are interested in adopting Patches, please contact Amy at 276-220-7123 or arbecker@umich.edu.