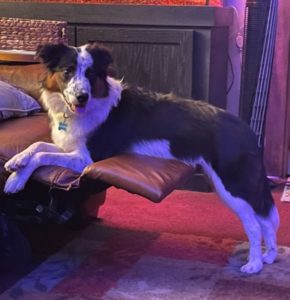 Cooper the Dog
Age: 1
Fixed (Spayed/Neutered)? Not known
Weight: 25 lbs
Indoor? Yes
Microchipped? No
City in which animal is located: Milan
Rehoming fee? Yes
Please note: This is a courtesy listing on HSHV's site. This animal is available through a private individual, NOT HSHV. For questions, please contact the individual below, not HSHV. Thank you!
We are guessing Cooper may have been a COVID abandoned dog and was guesstimated to be about a year old by a vet. In the last 2 months, since we found him, we have been teaching him good manners and commands.
He absolutely loves our German Shepherd and they wrestle and play together a lot. We are a family of 3 adults and he would love to have all our attention to himself. We have two cats and he likes to chase them. One of our cats likes him, but the other cat is afraid of him.
He is house-broken but doesn't always tell us if he has to go out. We just let him outside throughout the day. He sleeps very well in his kennel all night long without barking.
He has energy to burn, so a big fenced-in yard would be ideal. We give him plenty of bones to chew, which he loves and therefore, have not had issues with him chewing our things.
We have never taken him away from our house to socialize with others and we don't have visitors frequently. He needs time to adjust to new faces, as he will growl. Once he is introduced to people, he will warm up. Young children, especially, should be introduced slowly, and not get in his face without being properly acclimated.
He was introduced to my 3 nephews, ages 8-21 and within an hour was fine with them and playing well.
If you are interested in adopting Cooper, please contact Susan at 734-368-3242 or knifamily4@gmail.com. This animal is listed as a courtesy on our site, but is available through this individual. For questions, please contact the individual listed, not HSHV. Thank you!