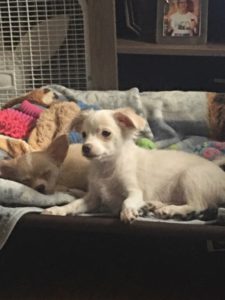 Shorty and Bella the Dogs
Fixed (Spayed/Neutered)? No
Indoor? Yes
Microchipped? No
City in which animal is located: Ypsilanti
Rehoming fee? Yes
Please note: This is a courtesy listing on HSHV's site. This animal is available through a private individual, NOT HSHV. For questions, please contact the individual below, not HSHV. Thank you!
I need to find a new home for my chihuahua puppies. The whiter one is a male, and the more tan colored one is a female. The boy is very energetic and playful, but also loves pets and to cuddle. The girl is also playful at times, but is more so cuddly. They are pretty small pups, so I don't feel as if they'd be a good fit for anyone with small children. They're potty-trained on pee pee papers, and are eating hard and soft food.
If you are interested in adopting Shorty and Bella, please contact Liliane at 734-829-8457 or savleon115@gmail.com. This animal is listed as a courtesy on our site, but is available through this individual. For questions, please contact the individual listed, not HSHV. Thank you!