Hank the Dog
Age: 3
Fixed (Spayed/Neutered)? Yes
Weight: 48 lbs
Indoor? Yes
Microchipped? Yes
City in which animal is located: Plymouth
Rehoming fee? No
Please note: This is a courtesy listing on HSHV's site. This animal is available through a private individual, NOT HSHV. For questions, please contact the individual below, not HSHV. Thank you!
Very loving English Bull Terrier Mix living in a small mobile home.
The Good…..very very human affectionate, Is not defensive about his food Can be trained if the environment has no dog reactivity triggers. He heels, comes, sits, stays. He loves nothing better than to snuggle with you on the couch. Ridiculously cool looking and muscular.
The Bad……. Living in a trailer has made his dog reactivity worse. vicious cycle can't exercise or walk him around people or dogs because his pent up energy triggers his reactivity, lack of exercise makes reactivity worse. If left alone in the car he becomes destructive. A new home must have a fenced back yard that no other dogs can be seen.
Good with cats and kids but kids might let him get out in the world.
Before reaching out to me be sure you know what you are getting into with him. Read up on English Bull Terriers and dog reactivity.
These dogs aren't for everybody but the payoff in love is huge.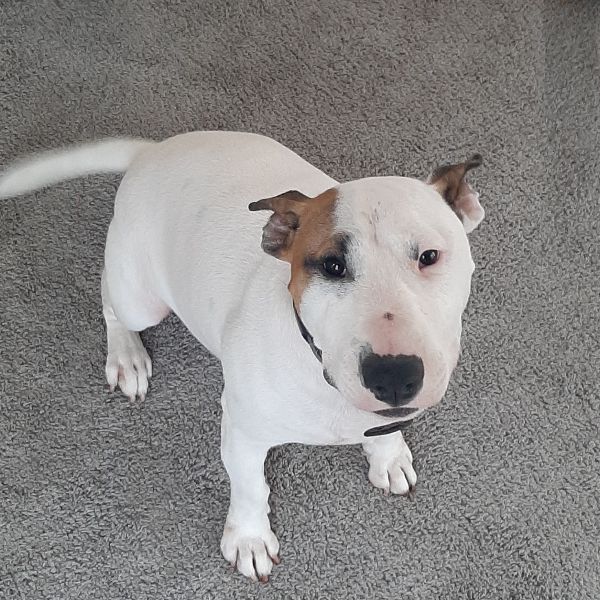 https://www.hshv.org/wp-content/uploads/formidable/105/20210608_105526-2.jpg
If you are interested in adopting Hank, please contact Philip at 810-360-9137 or philipehenderson@hotmail.com. This animal is listed as a courtesy on our site, but is available through this individual. For questions, please contact the individual listed, not HSHV. Thank you!