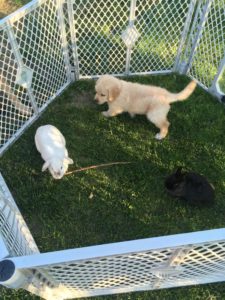 Marshmellow and Stromy the Bunnies
Age: 4 years
Fixed (Spayed/Neutered)? No
City in which animal is located: Ann Arbor
Rehoming fee? No
Please note: This is a courtesy listing on HSHV's site. This animal is available through a private individual, NOT HSHV. For questions, please contact the individual below, not HSHV. Thank you!
I have possession of my daughters 2 bunnies, both approx 4 years old. My daughter has moved to San Diego Ca. and could not take her pets with her. She will not returning for at least 6 years (military). I currently have been caring for the bunnies, but do not have the time to spend with them that they deserve. They were previously indoor bunnies and potty trained, but about 2 years ago we moved them into a special built ground level weather enclosed pen so they could run and play and enjoy the sun and dig etc. They still like to come in the house, and explore. They have been around cats as well as a golden retriever without issue in the past as well.
If you are interested in adopting Marshmellow and Stromy, please contact Jennifer at 313-717-0005 or jennifer.gondek@aol.copm. This animal is listed as a courtesy on our site, but is available through this individual. For questions, please contact the individual listed, not HSHV. Thank you!