Caroline the Turtle
Age: 25 years
City in which animal is located: South Lyon
Rehoming fee? No
Please note: This is a courtesy listing on HSHV's site. This animal is available through a private individual, NOT HSHV. For questions, please contact the individual below, not HSHV. Thank you!
Caroline* the turtle is beautiful and fun to watch, but to be honest, caring for turtles takes a lot of upkeep. We are hoping to rehome Caroline to a family who will maintain his habitat and not neglect him.
Along with what you see in photos (tank, floating basking ledge, heat lamp, rocks, stones, etc… there is also a water filter and water heater in there,) we will also give a 50-ft long tank hose, which we have used for cleaning the tank. This hose has a special valve/attachment for use with a laundry tub, that can suction out water and refill tank with same hose. We find it needs a cleaning every 3-4 weeks. We've had Caroline for 25 years!!! He could live another 5-10-20 years…. who knows with turtles.
A perfect home for Caroline would be alone or with other female turtles — (*Caroline is actually male; named before we knew he was male) — a home where there would be no territorial instincts/issues to deal with.
Thank you for your consideration!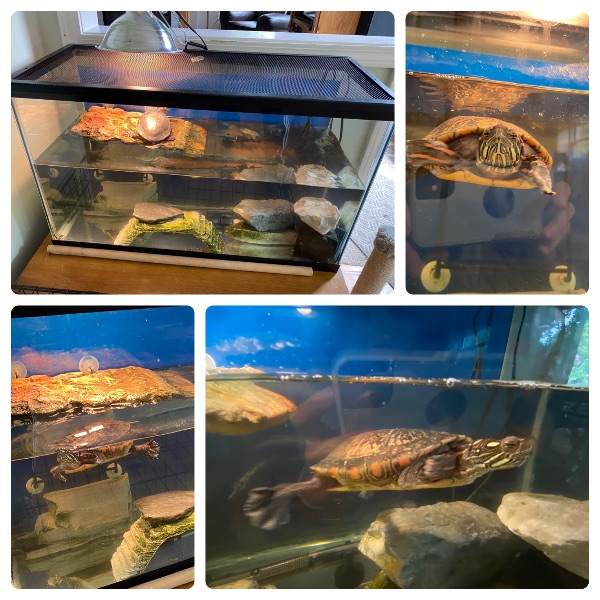 https://www.hshv.org/wp-content/uploads/formidable/105/ED3C773A-90EB-4EBE-B9A7-7F6AEF9336BB.jpeg
If you are interested in adopting Caroline, please contact Carrie at 248-982-6895 or pedersenteevens@gmail.com. This animal is listed as a courtesy on our site, but is available through this individual. For questions, please contact the individual listed, not HSHV. Thank you!