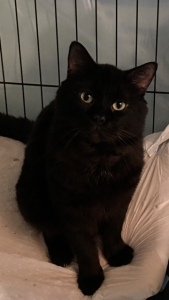 Charlie the Cat
Age: 2 years
Fixed (Spayed/Neutered)? Yes
Declawed? No
Weight: 8 lbs
Indoor? Yes
Microchipped? No
City in which animal is located: Ypsilanti
Rehoming fee? No
Charlie is the sweetest cat I've ever met. He showed up in our yard one day, one thing led to another, winter came and we started letting him sleep in our basement. We had planned on keeping him because he was so darn cute but it turns out he has feline leukemia. We already have a cat so we cannot keep him now. We had no choice but to buy a three tier cage for him because we cant risk him and my other cat coming in contact with each other. This is no way for any animal to live. I'm doing the best I can but this guy needs a home where he can run and play. He truly is the friendliest cat would be so grateful. He's been neutered has his shots. He's not microchipped. Please save him!
If you are interested in adopting Charlie, please contact Rena  at 3134155729 or rena55@icloud.com.