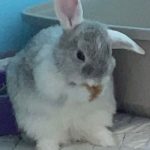 Come get your one and only Buddy
Buddy the Rabbit
Age: 10 months
Fixed (Spayed/Neutered)? No
Declawed? No
Weight: 9 lbs
Indoor? Yes
Microchipped? Not known
City in which animal is located: Dearborn
Rehoming fee? No
Please note: This is a courtesy listing on HSHV's site. This animal is available through a private individual, NOT HSHV. For questions, please contact the individual below, not HSHV. Thank you!
Hello everyone, my name is Buddy. I'm looking for a fun home to run around and play in. I love getting pet like a lot a lot but I hate getting picked up. Eating food is something I'm good at, licking my lip and honk when I know food is on its way. I love cleaning myself when I see other people being clean/cleaning. I am shy but give me some time and I am a crazy friendly buddy.
I'm good with kids over 10
I come along with belongings.And I am litter trained —  just have some accidents sometimes next to my litter box.
If you are interested in adopting Buddy, please contact Abrar  at (313)554-5252 or (313)549-0135 or abraralatooli@icloud.com. This animal is listed as a courtesy on our site, but is available through this individual. For questions, please contact the individual listed, not HSHV. Thank you!