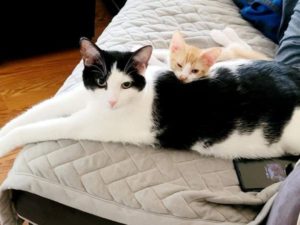 Niko the Cat
Age: 2.5
Fixed (Spayed/Neutered)? Yes
Declawed? Yes
Weight: 12 lbs
Indoor? Yes
Microchipped? No
City in which animal is located: Ypsilanti
Rehoming fee? No
Please note: This is a courtesy listing on HSHV's site. This animal is available through a private individual, NOT HSHV. For questions, please contact the individual below, not HSHV. Thank you!
Niko is very sweet, he loves belly rubs and cuddles. We are in an adult household, but he is fine with the grandkids. He has a little step brother that he loves and is very gentle with. He is ok with car rides and prefers to be loose on a leash for car rides. He was alone for a bit so if there is no other animal he will love the attention. He is declawed in the front (we got him like that). Niko loves to look out the window and play cat games on his I-pad.
If you are interested in adopting Niko, please contact Rhonda at 313-346-2390, 734-945-9130 or klsmydad@med.umich.edu. This animal is listed as a courtesy on our site, but is available through this individual. For questions, please contact the individual listed, not HSHV. Thank you!