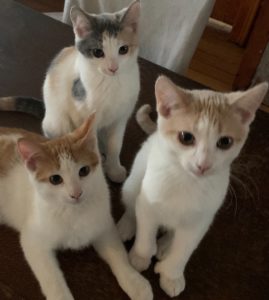 Mimi, Charlie, and Ollie the Cats
Age: 14 weeks
Fixed (Spayed/Neutered)? No
Declawed? No
Indoor? Yes
Microchipped? No
City in which animal is located: Manchester
Rehoming fee? No
These kittens were born in the house and are comfortable with dogs, other cats, other animals, and kids of all ages. They're all good with litter boxes, in excellent health, and some are Hemingway cats (extra toes). They have not had shots, but the mother has had shots. All three of extremely affectionate, curious, and athletic.
If you are interested in adopting Mimi, Charlie, or Ollie, please contact Jennifer at 810-542-1257 or jenbassols@yahoo.com.