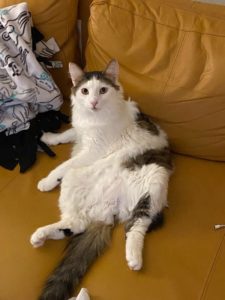 Killy the Cat
Age: 1 year and 9 months
Fixed (Spayed/Neutered)? Yes
Declawed? No
Weight: 10 lbs
Indoor? Yes
Microchipped? Yes
City in which animal is located: East Lansing
Rehoming fee? No
He lives in an apartment with one adult owner and another adult male cat. He is very nice to people, but often fights my cat, who I had here first. Sometimes it is play fighting but it can get aggressive. However, he loves to cuddle and be in the same room as his person. He does not meow a lot and he loves to play and swat at bugs.
If you are interested in adopting Killy, please contact Jazz at 734-999-8303 or cheeksj1@msu.edu.