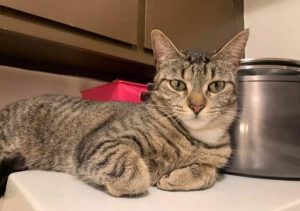 Big Mamas the Cat
Age: 1-3 years old
Fixed (Spayed/Neutered)? No
Declawed? No
Weight: 4 lbs
Indoor? Yes
Microchipped? No
City in which animal is located: Ypsilanti
Rehoming fee? No
Big Mamas was found outside with her female kitten with her. I took them both in with hopes that I could home them because they are so sweet. Big Mamas is the sweetest she is about 1-3 years old. She loves attention, she loves speaking, and loves being around other animals. She is litter boxed trained, knows commands, and very obedient. She loves sitting on top of high things and even loves to keep you company on the shower ledge. She loves being independent and sitting in her own spaces but loves to be seen and get attention. She loves watching the outdoors and chatting with the birds. She is the most caring mother to kitten and loves to play with my other cats. She also gets along with small dogs not to sure about big dogs. She would be great for any type of home. She has lived a life outside and she has shown nothing but love and appreciation towards my family for bringing her and her baby in. She is not a cat to pass up. Her kitten is also listed please check out details about both. Preferred to be adopted together but not necessary.
If you are interested in adopting Big Mamas, please contact Hannah at 734-664-0099, 734-306-2475, or hannahgreen520@outlook.com.