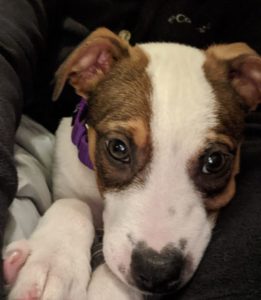 Diego the Dog
Age: 8 Months
Fixed (Spayed/Neutered)? Yes
Weight: 30 lbs
Indoor? No
Microchipped? Yes
City in which animal is located: Ypsilanti
Rehoming fee? Yes
Diego has a lot of energy. He loves kids, but he is a puppy so he is a little mouthy. He will jump up on kids and my knock a small child over. He requires a lot of walks and a lot of love. He is a good dog that needs someone that has the time and patients to walk him and train him properly. He will need a fenced-in yard so that he has room to play. He would love to have another dog to play with, but he plays rough and likes to wrestle so if your dog is going to be offended by that it might not be a good match. We would love someone to take him that lives in the area that would be willing to meet us at the dog park every once in a while so my kids can say hi to him. They really love him and are going to miss him, but we know that this is what is best for him.
If you are interested in adopting Diego, please contact Allison at 970-509-0259 or allison.sarah.ivey@gmail.com.