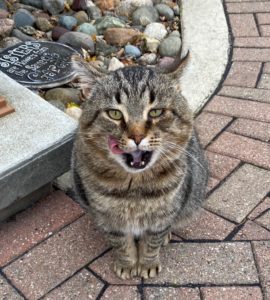 Fat Cat Moses the Cat
Age: 2 years
Fixed (Spayed/Neutered)? Yes
Declawed? No
Indoor? No
Microchipped? Not known
City in which animal is located: Chesaning
Rehoming fee? No
This cat currently is living outside in one of our own cats house (another reason he has to go…our cats do not like him because he's taken over their territory). He is really social and protective towards humans. I would say he would do great in a house because he needs people and just wants to be on their laps or sitting beside them. He is a really loving. I think he'd be a wonderful therapy cat if there were such a thing. I've told my adult kids he's more like a dog than a cat. We'd keep him if our cats liked him, they just don't. He'd make a great companion.
If you are interested in adopting Fat Cat Moses, please contact Pamela at 989-295-0467 or pkhenige@gmail.com.