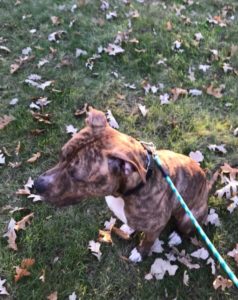 Scar the Dog
Age: 1yr 7mths
Fixed (Spayed/Neutered)? No
Weight: 61 lbs
Indoor? Yes
Microchipped? No
City in which animal is located: Albion
Rehoming fee? No
Please note: This is a courtesy listing on HSHV's site. This animal is available through a private individual, NOT HSHV. For questions, please contact the individual below, not HSHV. Thank you!
Scar is the brother to our other dog Nala who we are also listing to be rehomed. If you have space for both that would be awesome as they have been together since birth. Our home is busy, noisy and quiet, just depends on the day so they are accustomed to any and all sounds except being outside living. We obtained Scar from a friend whose dog had puppies on April 26, 2020.
Scar is fully potty trained, wakes up early mornings waits to be taken out but don't make him wait too long. He goes to the bathroom after eating and playing, sleeps as needed during the day but mostly around bedtime. We would say he is very loving, friendly and enjoys running, walking, fetching, lounging around, watching movies and listening to music. He really enjoys toys and frisbees.
He's very good with kid's preferably girls. He stayed mostly in my girl's room and followed directions from them mostly outside of myself. Scar would be the perfect pet for someone who has time to hangout with him or allow him to hangout with them kid's and adults.
Eats… (Pedigree) is the only food he has eaten since birth. He grew from eating puppy Pedigree with soft mixtures to Adult Pedigree of all varieties no table food at all. Dog treats and bigger dog bones are enjoyable for him. He eats fresh food every day not really sure how much as our bowls accommodate him to eat as much as he would like through out the day but not enough to feed him the next day.
Drinks… he only drinks fresh water! So after he has drunk from the bowl two times he will not drink it again we change his water often. We have found that he is not to keen on bugs. If a bug has landed on his food or in his water he will not touch it. Only flies have been close to either dog as they are house dogs.
If you are interested in adopting Scar, please contact Jessica at 517-240-3566 or atchisonj29@gmail.com. This animal is listed as a courtesy on our site, but is available through this individual. For questions, please contact the individual listed, not HSHV. Thank you!