The Humane Society of Huron Valley (HSHV) is FULL of over 100 furry friends. To get them into loving homes faster, you can adopt an adult cat or dog for free—or any donation you wish—with their "Pick-Your-Price" special running one week only: Monday, July 29 through Sunday, August 4, 2019.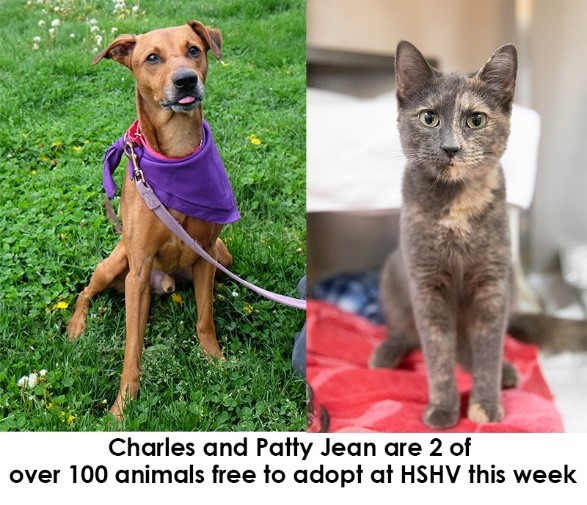 "Not only is our shelter at maximum capacity," says Alison Balow, HSHV's Adoption Manager, "but we have more and more animals coming in every day. We really hope this promotion will encourage people to adopt right now. Summertime is a fantastic time to bring a new pet into your family, and we have so many wonderful animals who've been waiting for homes; we just need adopters!"
While the term "free adoption" can distress some animal lovers who worry unscrupulous people may adopt, HSHV reminds people that their adoption policies remain the same—whatever the fee.
"Whatever amount they pay, we always meet with every potential adopter to discuss the real costs of caring for a companion animal," says Balow. "And the research backs up what we've experienced: people who don't pay a fee when they adopt a companion animal value that animal the same way people who pay fees do, and care for them just as much, too. Plus, for many years, we've been adopting senior animals to senior people for free and have seen great success with that program. Because, really, it's the match, not the initial money, that matters, and we try our best to help people find the pets who will best fit their family and lifestyle."
"Of course, we hope that people will chip in as they are able," says Balow," as we always appreciate and need donations."
Adopting at HSHV is a value at any price; every cat and dog adopted at HSHV is already spayed or neutered, has received an initial health screening and age-appropriate vaccinations, and comes with a microchip ID.
HSHV notes that their regular adoption policies apply, as always, and this adoption special is not valid on Legacy Adoptions, previous adoptions, or adoptions at their Tiny Lions lounge and adoption Center cat café. This week's Pick-Your-Price special is good only on adult cats and dogs over the age of 6 months who are at HSHV or in foster care with HSHV. See adoptable animals at www.hshv.org/adoptionspecial.
HSHV's adoption hours are Mondays through Wednesdays 11am-6pm, Thursdays and Fridays 11am-7pm and Saturdays and Sundays 11am-5pm.