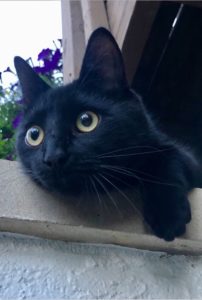 Felix Felicis the Cat
Age: Just over a year
Fixed (Spayed/Neutered)? Yes
Declawed? No
Indoor? No
Microchipped? Yes
City in which animal is located: Manchester
Rehoming fee? No
Friendly, outdoor cat with lots of energy. Cute and funny. Loves to snuggle and cuddle when inside, but is unhappy if left stuck inside for too long. Home with a cat door, or someone who could let him out would be ideal. Has lived with other animals (during quarantine) and is friends with another local outdoor cat. He has met and done well with small children, but can be shy at first.
If you are interested in adopting Felix Felicis, please contact Madeline at 317-373-1818 or edcmaddiegreen@gmail.com.