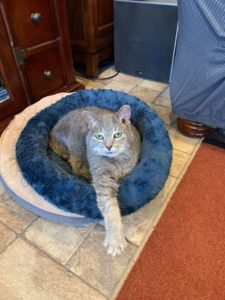 Yoyo the Cat
Age: 17 years old
Fixed (Spayed/Neutered)? Yes
Declawed? Yes
Weight: 10 lbs
Indoor? Yes
Microchipped? No
City in which animal is located: Whitmore Lake
Rehoming fee? No
Yoyo has been with us ever since she was 8 weeks old. She's been very healthy, and lives with 2 dogs. My husband still works but I am retired, so our home is pretty quiet. Yoyo is a very sweet and affectionate cat. She sleeps a lot, as most cats do, but she is very agile and active for one of 17 years. She gets along very well with the dogs. Both dogs are on the small side. One is a cockapoo and the other is a Cairn terrier that we rescued. The cockapoo is 15 years old. I speak of the dogs to illustrate that we take very loving care of our animals. We are very sad to give Yoyo up, but after much consideration, we feel it's best for my husband's health.
I believe Yoyo would bring a lot of companionship and happiness to someone, particularly an older person(s). She's very friendly to everyone.
If you are interested in adopting Yoyo, please contact Erin at 517-304-1719 or ilv2tchnow@gmail.com.