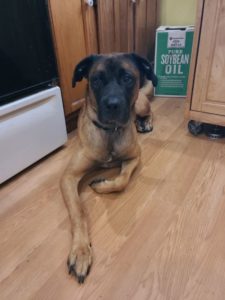 Kipper the Dog
Age: 3
Fixed (Spayed/Neutered)? No
Weight: 65 lbs
Indoor? Yes
Microchipped? No
City in which animal is located: Ypsilanti
Rehoming fee? Yes
Please note: This is a courtesy listing on HSHV's site. This animal is available through a private individual, NOT HSHV. For questions, please contact the individual below, not HSHV. Thank you!
Kipper is a big, gentle sweety. All he wants to do is to be near to his people and be loved. He is great with cats and other dogs. He has never bothered my chickens, turkey, or bunnies. He cannot be around any dogs who have territory issues. He will get beat up, as he is a total wuss.
Did I mention he was gentle? He would literally prefer to drop the treat than accidentally have his teeth even touch your finger. We fostered some puppies and he was so careful with his feet to not step on them.
Kipper needs a home with a tall fence, as he likes to jump and run, and boy, can he run!
He really just needs a home where he can be near his humans and be safe.
If you are interested in adopting Kipper, please contact Marnia at 734-695-1235, 586-360-6372, or marnia.hardy@gmail.com. This animal is listed as a courtesy on our site, but is available through this individual. For questions, please contact the individual listed, not HSHV. Thank you!