George the Dog
Age: 11
Fixed (Spayed/Neutered)? Yes
Weight: 80 lbs
Indoor? Yes
Microchipped? Yes
City in which animal is located: Dexter
Rehoming fee? No
Please note: This is a courtesy listing on HSHV's site. This animal is available through a private individual, NOT HSHV. For questions, please contact the individual below, not HSHV. Thank you!
I got George at the Humane Society in Louisville KY in November 2011. He was told to be around 8 months at that time. George is sweet and safe. However, George is anxious. I was able to work with his anxiety to keep it tolerable because it was just George, my cat Darwin (who was the boss), and me. We would do daycare, walks, thunder-shirts, chew treats, diffusers, or other topical herbal medications. We moved to MI and I met my husband. We continued to work with his anxiety and have tried various medications, behaviorists, and various vets. His anxiety continued to worsen. He started to behavior pee when we would leave him by himself (ex. go outside to mow the lawn, go to the grocery store, etc.). There will be times he is completely fine and then out of the blue he will pee. Therefore, we always but on a belly band when we leave. Now I have a 4 yo and a 10 mo old. For the pandemic, I had thought with my husband working from home, maybe the anxiety will get better. It got worse. The last thing a behaviorist had suggested was another dog. We were hesitant for many years as we were concerned about getting another anxious dog. However, George was on medication, and his anxiety really worsened during the pandemic. Therefore, we got another dog. At first, it was amazing. George was relaxed, his whining stopped, and he seemed better. Then about 3 months later, he became anxious again. He rarely wants to play with the other dog, who always wants to play. He now spends his day avoiding her. He also is not very aware of my children. He will run them over not because he is aggressive, but because he is not aware. George has never been aggressive. Therefore, I am at a loss. I see how miserable he is, and I just do not want him to spend the remainder of his years so unhappy as I cannot adjust to his needs with my current job and my children.
Here is what George needs to help his anxiety: The only dog or other dogs that are older. Someone who wants to be next to George all the time, either sitting, petting, riding in the car, or laying in bed. No beeps…pager, smoke alarms, beeping alarms. As for the behavior peeing, he will wear a belly band. 90% of the time this will help, and when it doesn't there is usually a beep or something that really scared him that causes him to pee in the belly band. He will pee in a crate without the band on as well. Therefore my vet suggested that we use a sedative when we need to leave, and it is not nice enough outside for him to lay on the porch. Other than that George is pretty much fine. He will not chew through things or scratch down a door. He is more of the whining, licking, barking, and shaking type of anxious. He will try to escape an area if we gate him off, and its not where he wants to be (he likes a soft bed or carpet). He has never destroyed any gate, door, or wall, but if he can squeeze through a gate, he will try. Therefore, though he has issues, he is not destructive. He just needs someone w/o children, and who has time to really spend with him. I just cannot offer this any more, and I see how miserable he is. I just want him to be happy and live a good rest of his days/years, which is not happening at my house currently. He is up to date on all shots. He had his teeth cleaned last summer. He takes heartgard and nexgard every month. He had pancreatitis once from eating something that caused an intermittent bowel impaction. He ate my dad's sugar free chocolates once and had to be admitted to the hospital. Otherwise he is healthy.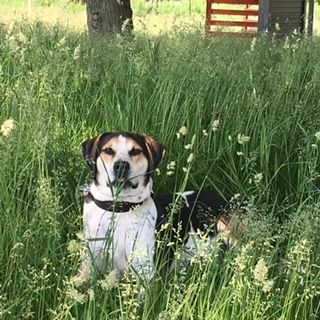 https://www.hshv.org/wp-content/uploads/formidable/105/George2.jpg
If you are interested in adopting George, please contact Anna at 608-216-4668 or Oms02232018@gmail.com. This animal is listed as a courtesy on our site, but is available through this individual. For questions, please contact the individual listed, not HSHV. Thank you!