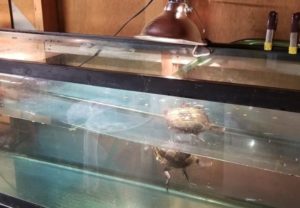 Gerald the River Cooter (Turtle)
Age: 20
City in which animal is located: Chelsea
Rehoming fee? No
Quiet Gerald lives in his tank 24/7 except for when it's time to clean it, then if the weather is nice, he goes outside (or our tub). He eats fishes and terrorizes any other species so he has to live alone. We will provide the tanks and amenities to whomever takes this awesome creature with them. Including some food!
If you are interested in adopting Gerald, please contact Sonia at 734-972-1813 or soniaflutur@yahoo.com.