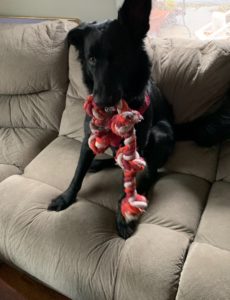 Shadow the Dog
Age: 1
Fixed (Spayed/Neutered)? No
Weight: 80 lbs
Indoor? Yes
Microchipped? No
City in which animal is located: Canton
Rehoming fee? No
Shadow is an energetic puppy! She loves to play and run and is great with kids. Our 2-YO granddaughter can climb all over her without an issue. She is protective of the house, good with other dogs who like to play. She is very, very intelligent and she knows it too. We have older cats and she try's to pounce and play with them. Loves toys and being around people.
If you are interested in adopting Shadow, please contact Donald at 734-391-9876, 506-623-1486, or dlush201@me.com.