Ghost & Grey Wind the Dog
Age: 4 and 3
Fixed (Spayed/Neutered)? Yes
Weight: 60 lbs
Indoor? Yes
Microchipped? Yes
City in which animal is located: Ann Arbor
Rehoming fee? No
Please note: This is a courtesy listing on HSHV's site. This animal is available through a private individual, NOT HSHV. For questions, please contact the individual below, not HSHV. Thank you!
Ghost (tan husky and American Dingo mix) and Grey Wind (white, albino husky mix) are ages 4 and 3 and while not related have grown a strong bond since youth and act like brothers. Ghost is the bigger of the pair, is incredibly bright and adventerous, and proudly protects his space and will curl up by your side. Grey Wind is sweet and timid, studies everything his big brother does is hilarious and vocal at times. Both love to wrestle around the house. They enjoy digging and would thrive with owners that have space for them to do their thing. I don't want to rehome them, but they deserve better than what I can give. These large dogs need an enclosed back yard and should not be homed with other small animals or children until 12.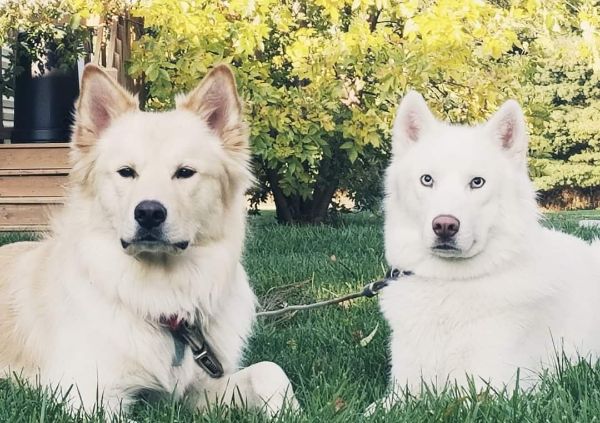 https://www.hshv.org/wp-content/uploads/formidable/105/FB_IMG_1648341932044.jpg
If you are interested in adopting Ghost & Grey Wind, please contact Jessica at 734-780-5201 or jesseleadholm@gmail.com. This animal is listed as a courtesy on our site, but is available through this individual. For questions, please contact the individual listed, not HSHV. Thank you!