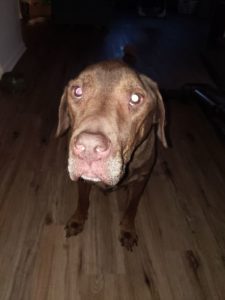 Dallas the Dog
Age: 8
Fixed (Spayed/Neutered)? Yes
Weight: 90 lbs
Indoor? Yes
Microchipped? No
City in which animal is located: Ypsilanti
Rehoming fee? No
Dallas is 8 years old and will be nine in June/July. He has lived with me since he was about 2 months old. Homes have always been pretty quiet. Now I have a 16 months old, so he's adjusting to not being the baby anymore, but he's NEVER shown agression towards her (just runs her off by licking lol). He's been on 1.25mg prednisolone/day and 2ml zycortal /45 days for the past idk 3/4 years, for his Addison's disease. He's a lab/pit mix super gentle loves kids and a mega licker.
Having a pre-existing condition means most shelters/people can't afford to take him. He prefers women but would vibe with the right guy. He's neutered and SO chill but hates being humped. He loves to roll in the grass. This dog is amazing. I wish we had the $/space to keep him.
If you are interested in adopting Dallas, please contact Jessica at 202-805-0232 or jloftonw@gmail.com.