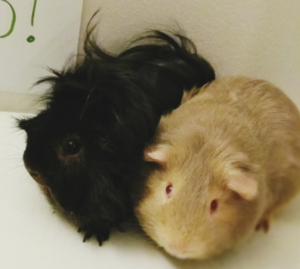 John C (tan) and Stanely (black) the Guinea pigs
Age: 1-2 year old
Fixed (Spayed/Neutered)? No
Indoor? Yes
Microchipped? No
City in which animal is located: Canton
Rehoming fee? No
Currently lives in a house with four people and cats. They love the cats and the cats love them! At the time we brought them home, my son was still very young and quiet. Now he is a rough and rugged toddler who is loud! The pigs do not enjoy that much commotion. Not sure about how they are around dogs, but they don't mind cats or older children. Unknown to me, I have a bad allergy to them and spite all efforts of extra hand washing, handling while holding them in a towel, etc. I will break out in hives like crazy. So please be certain they won't do the same to you! They aren't big on you taking them out of the cage but once you do and you give them a minute they do love snuggles. They have a 5X2 c&g cage that can go with them along with the coroplast bottom as well. They're the goofiest little weirdos that will give your family lots of laughs!
If you are interested in adopting John C. and Stanley, please contact Leah at 734-469-1208, 734-469-0806, or lmbarber.85@gmail.com.