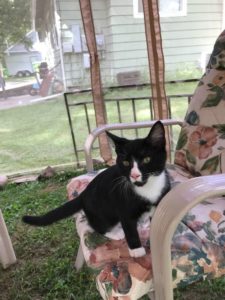 Mushka the Cat
Age: 5 months
Fixed (Spayed/Neutered)? Yes
Declawed? No
Weight: 5.5 lbs
Indoor? Yes
Microchipped? Yes
City in which animal is located: Chelsea
Rehoming fee? Yes
Mushka is a very special kitten. He is gorgeous and smart. He will come when you call him with his tail vibrating. He loves his food. He is going to be a large male cat. He is incredibly loving and affectionate. He wants to be around you and loves people. He will happily crawl into your lap, purring loudly and take a nap. He would also love to sleep with you. Mushka needs a special person who is kind, yet firm, and consistent. He was taken from his mama and littermates when he was very young and had no one to teach him kitty manners, so he needs help in understanding how to behave around people. He doesn't use his claws, but he is still a little bitey. Because of this, it would be best if he wasn't around young children. He would do best being the only animal in the house and allowed to be an indoor/outdoor cat. He is neutered, microchipped, and has all his vaccines. Plus, he comes with lots of toys! Mushka will make a wonderful, playful, loving companion for a special person…. could it be you?
If you are interested in adopting Mushka, please contact Raizel at 720-320-4114 or balancecc@msn.com.