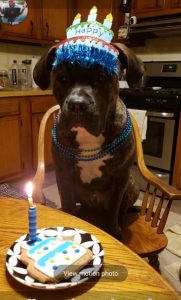 Crush the Dog
Age: 3 yrs
Fixed (Spayed/Neutered)? Yes
Weight: 87 lbs
Indoor? Yes
Microchipped? Yes
City in which animal is located: Monroe
Rehoming fee? Yes
Crush lives in a quiet home with one adult and one other large female dog. He adores people and children. I have had Crush for over 2 years and he has been very eager to learn and has such an incredible, fun, loving character!! Although he has become very obedient and is very willing to learn, he does not tolerate cats or small dogs at all.
Crush respects my yard boundries and my invisible fence. However, my invisible fence does not prevent neighboring animals from entering my yard to challenge my dog's territory. It would be in his best interest to have a fenced in area to run. He is so very, very loving and has an incredibly magnetic personality. He is very loyal and loves to make you happy! He is great on a leash and loves to do the treadmill with you too!
If you are interested in adopting Crush, please contact Paula at 734-625-1042 or [email protected]