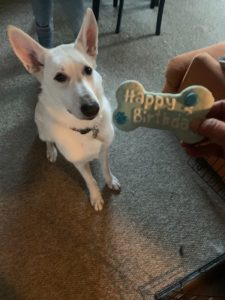 Barker (Peter Barker the Amazing Spider-pup) the Dog
Age: 18 months
Fixed (Spayed/Neutered)? Yes
Weight: 85 lbs
Indoor? Yes
Microchipped? Yes
City in which animal is located: Saline
Rehoming fee? Yes
Please note: This is a courtesy listing on HSHV's site. This animal is available through a private individual, NOT HSHV. For questions, please contact the individual below, not HSHV. Thank you!
He is a great, loving dog, who needs more time and attention than we have been able to provide. He also needs a lot of safe area to run and let out his tremendous amount of energy he has bottled up. With a little training and room he will be a great family pet. I have taken a job that requires more travel and commute than I had expected when we adopted him. He is kennel trained and unfortunately has had to spend way to much time in there. We absolutely love him but know he is better suited for a different environment.
If you are interested in adopting Barker, please contact Steven at 734-709-2246 or stevegaspo@gmail.com. This animal is listed as a courtesy on our site, but is available through this individual. For questions, please contact the individual listed, not HSHV. Thank you!