Vegas & Roadie the Birds
Age: 16 & ~5 years
Fixed (Spayed/Neutered)? No
City in which animal is located: Ann Arbor
Rehoming fee? No
Please note: This is a courtesy listing on HSHV's site. This animal is available through a private individual, NOT HSHV. For questions, please contact the individual below, not HSHV. Thank you!
I have had Vegas the green cheek conure for 16+ years (sex unknown) and Roadie the budgie for 5+ years (female). Green cheek's hatch date is May 22, 2006. Budgie is a rescue, confirmed female after infertile egg laying in 2021. Pair lives amicably in same cage. Birds chat with one another and react to outside birds. Not too loud and can be quieted by cage covering. Neither are especially social with humans, but seem happy with one another. Will only rehome the pair together. Green cheek is trained to commands "step up" and "poop," but does not consistently obey. He has minimal, rough vocabulary that he uses on occasion, including "step up," "poop," "kiss kiss," "thank you," "yes," "Vegas," and "Mackenzie." Budgie does not tolerate holding or any physical human interaction; very skittish. Vegas can tolerate human interaction including standing on finger, hand holding, sitting on shoulder, etc. Rehoming comes with black cage (including top play area), cage cover, carpet protector sheet, various cage toys, water and food bowls/bottles and any remaining food/litter. They have both eaten ZuPreem FruitBlend for MEDIUM birds while I have had them.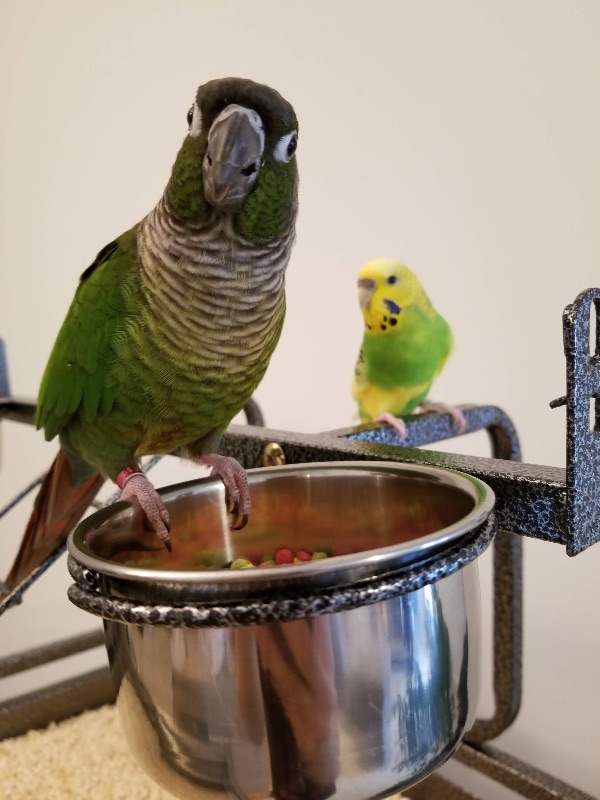 https://www.hshv.org/wp-content/uploads/formidable/105/8EE2F418-32D5-4079-A240-B3F0836F1138.jpeg
If you are interested in adopting Vegas & Roadie, please contact Mackenzie at 517-204-1413 or zeedance20@gmail.com. This animal is listed as a courtesy on our site, but is available through this individual. For questions, please contact the individual listed, not HSHV. Thank you!