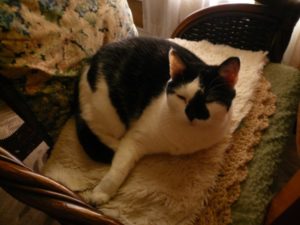 Claudia Rae the Cat
Age: 8 years
Fixed (Spayed/Neutered)? Yes
Declawed? No
Indoor? Yes
Microchipped? No
City in which animal is located: Ann Arbor
Rehoming fee? No
She lives in a quiet home, with just me, my other cat, and rescued dog. She was a stray kitten about 3 months old found at a friend's farm stranded in dense thorn bushes for two days before she could be rescued. She is frightened when outside, but seems perfectly happy to be a totally indoor cat. She still has her claws but has never caused any damage to furniture, etc. She likes people, is ok with dogs and children, and likes to play with toys. She turns on a strong purr as soon as you affectionately touch her. She is very pretty — black on white, with several of the black markings in the shape of a heart.
If you are interested in adopting Claudia Rae, please contact Martha at 734-662-1329 or hillm@umich.edu.