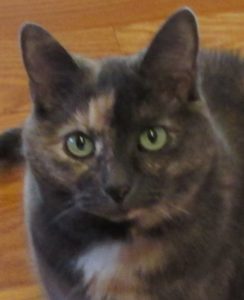 Penny the Cat
Age: 10
Fixed (Spayed/Neutered)? Yes
Declawed? No
Weight: 10 lbs
Indoor? Yes
Microchipped? No
City in which animal is located: Chelsea/Manchester Area
Rehoming fee? No
Penny's an independent gal in need of a new home with trainable humans who give massages and are willing to play with her when she's in the mood. Penny is okay with dogs as long as they aren't too aggressive. Never has been around other cats. She's a bit of a diva, really talkative and loves being around us.
Penny needs a special diet…urinary tract health formula to control her PH levels. Other than being a bit overweight she's a very healthy 10 yr old girl.
If you are interested in adopting Penny, please contact Deb at 734-277-3014 or bdgrimmette@yahoo.com.