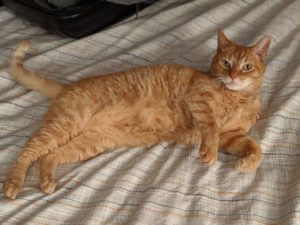 Howard the Cat
Age: 14
Fixed (Spayed/Neutered)? Yes
Declawed? No
Weight: 12 lbs
Indoor? Yes
Microchipped? Yes
City in which animal is located: Muskegon, MI
Rehoming fee? No
Please note: This is a courtesy listing on HSHV's site. This animal is available through a private individual, NOT HSHV. For questions, please contact the individual below, not HSHV. Thank you!
Howard was adopted locally in 2012 at roughly 2 years old. Has been a great cat over the years and gotten along great with the other cats (3 total) in the household for all but the last year or so. Howard will keep to himself vs. playing with the other cats. Loves to be near people and will always make himself known with meows when a new person comes into the house. You'll likely find him sitting next to you laying on the couch, but very rarely on your lap. When in a good mood, he will almost constantly be kneading his paws, especially when standing up, and will never say no to a head scratch.
If you are interested in adopting Howard, please contact Christopher at 231-730-5569 or christopher.r.reeves@gmail.com. This animal is listed as a courtesy on our site, but is available through this individual. For questions, please contact the individual listed, not HSHV. Thank you!